With cell phone photography in the rain, there are certain precautions you need to take before taking your smart phone out in the water.
Your smart phone, if it is new (within the last couple of years), it has probably got "weatherproof" capability. If you trust that, it means that your phone can generally get splashed on, rained on, spilled on, BUT can not be submerged in liquid. You have at least 1 compartment on your phone that is not totally sealed, as hard as they try. That is where the "sim card" goes. If you can keep your phone at least from getting a dunk, you should be good. But, check it out first from your place you bought it at, or check the instructions if you still have them. DO NOT TAKE MY WORD FOR IT. I DO NOT KNOW WHAT PHONE YOU HAVE, SO, I DO NOT KNOW IF IT IS WEATHERPROOF OR NOT, AND CLAIM NO LIABILITY.
Taking pictures in the rain should not hurt your camera, but really mess up your image. Why? Because the lens is getting wet probably. Your photos will come out really blurry if you just go out and start taking pictures in the rain, without protecting the lens. You should know where the lens is, so, the best thing to do is to use an umbrella, or some magazine, whatever, and protect rain from getting on your camera if you want a good picture.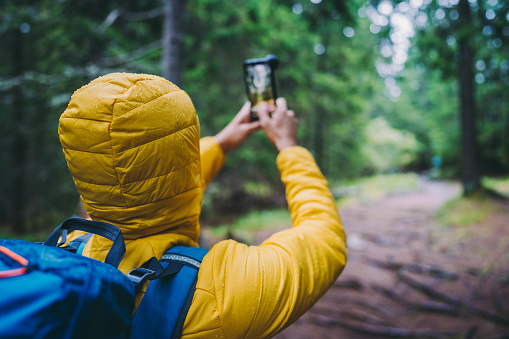 If you want to get a photo now in the rain, be aware that it is darker outside generally. Your flash might go off, or you will find that you need to hold your camera extra steady, or put it on a tripod. Generally, if you have good nerves, you should be able to hold it. I would always snap the picture, then view it, to see if water got on the lens to distort your image. If so, you may need to shelter your camera while you take the photo.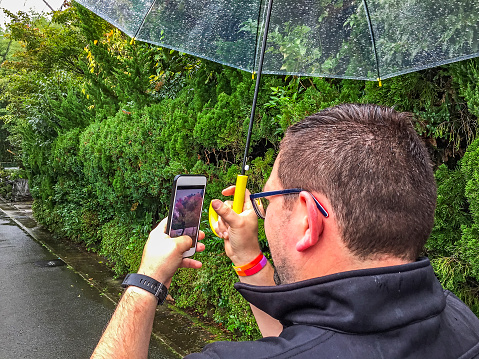 And, if you have an umbrella, as you can see, you can take a photo by yourself, under the umbrella.
Isn't this the most beautiful waterfall you have seen? It was not taken with a cell phone, but, some cell phones are capable of creating their photo like this. Check to see if you can go into "PRO" or "ADVANCED" mode. If your cell phone can do this, then you may have the ability to do a "slow shutter speed" with your phone. The photo above was taken with a shutter speed somewhere around 2 to 4 seconds. If your phone can do that, then you can create a photo like this one, but, you will need to have your phone on a tripod. You cannot hold your camera still enough to get a sharp photo without a tripod.
Looking at a photo, taken in the rain, at night time is a beautiful thing as well. Look at the reflections you get on the road, and the color of the city. That is the beauty of having rain photos at night time. The lights around are all reflecting, and just makes a colorful photo. Try that and see how it turns out for you.
IF YOU HAVE ANY QUESTIONS ABOUT PHOTOGRAPHY, HERE IS A FORM IN WHICH YOU CAN ASK A QUESTION, AND I WILL ANSWER YOU RIGHT BACK. PLUS, WE WILL PUT YOU ON OUR NEWSLETTER LIST, SO YOU CAN GET THE LATEST INFORMATION, AND PROGRAMS AVAILABLE AS THIS WEBSITE GROWS.